Occupy Wall Street Flea Party Turns Violent As Rioters Attack Cops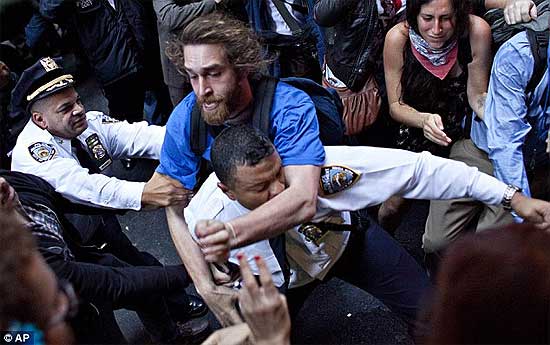 Now the End Begins
The leaders of this so-called "grassroots" movement (there is grass, but they are smoking it) are ratcheting it up and over the last two days we have been hearing threats of violence, mostly veiled, but not always. Now this. It apparently is ratcheting up folks. The radicals want to de-stabilize us. And they know revolution will do just that. Most of these folks are what the communists call "useful idiots"..but the leadership, the SEIU's the AFL-CIO's, and the George Soros' of the world, not to mention the Obama's of the world, no exactly what they are doing. If you haven't been praying yet, this would be a good time to start.
When fleas attack
Violence erupted on Wall Street this morning with hundreds of protesters clashing with police as they marched in Manhattan – jumping over barriers, pushing over police scooters and blocking traffic.
Fifteen protesters have already been arrested in New York today after they got into fights with police officers after a planned 'eviction' was postponed following a last-minute standoff with authorities.
Park owners – backed by New York City Mayor Michael Bloomberg – put off the scheduled clean-up and Occupy Wall Street demonstrators celebrated this morning as they marched down Broadway.
The dramatic move came just hours after demonstrators chanting 'Hell no! We won't go!' stormed a Wall Street restaurant last night to confront Mayor Bloomberg over a planned clean-up of their camp.
Protesters surrounded Cipriani restaurant in Manhattan as the Mayor was at dinner in an attempt to hand him a petition with 310,000 signatures supporting their right to remain in Zuccotti Park.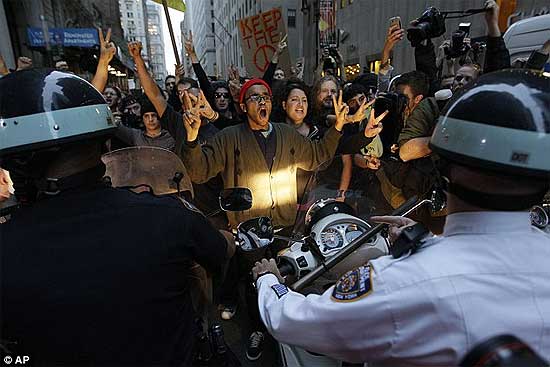 Their anger was triggered by the Mayor's endorsement of a clean-up of the 'unsanitary' Occupy Wall Street encampment – which was postponed by Brookfield Office Properties at the last minute.
Mayor Bloomberg said it was Brookfield rather than him that decided to postpone the clean-up, but added that the firm had come under pressure from city politicians, reported the New York Daily News.
source – Daily Mail UK