Huge Drug Tunnel Found Near Yuma, Arizona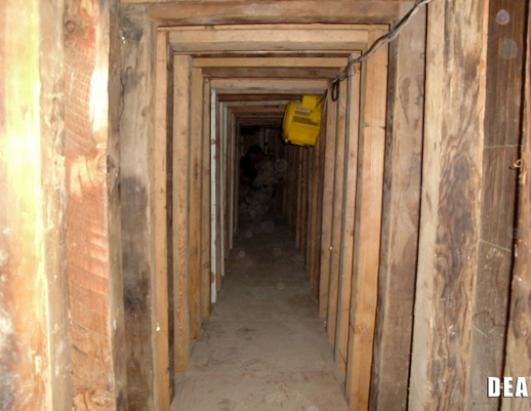 DEA agents found a drug tunnel in a one-story building in San Luis, Arizona, near Yuma, July 7, 2012.
(DEA)
ABC
Authorities in Arizona have discovered a lighted, ventilated cross-border drug smuggling tunnel more than two football fields long and possibly linked to the Sinaloa drug cartel just steps from an official border-crossing checkpoint between Mexico and the U.S.
Local and federal officials found the tunnel's entrance hidden under a water tank in a one-story building in San Luis, Arizona, near Yuma. The tunnel then plunged 55 feet down before turning south for Mexico. The 240-yard tunnel, which had six-foot ceilings, lighting and ventilation, surfaced across the border inside an ice factory in San Luis Rio Colorado, Mexico.
PHOTOS of Mexican border drug tunnels.
Drug Enforcement Administration agents had been monitoring the building on the U.S. side since January, after seeing what they considered suspicious activity "that indicated the site was being used as a potential stash location," said the DEA in a statement. On July 6, local law enforcement stopped a pick-up truck carrying 39 pounds of methamphetamine, and then traced the vehicle back to the San Luis building.
"The recent discovery of this sophisticated drug smuggling tunnel is yet another reminder of how desperate these criminal organizations are and the extent they will go to further their drug dealing operations and endanger the security of our citizens, said Doug Coleman, Special Agent in Charge of the DEA's Phoenix Field Division. "The DEA continues to work with our counterparts nationally and internationally to bring to justice these drug trafficking organizations as well as to block their smuggling routes into this country."
Coleman estimated that the tunnel cost $1 million to $1.5 million to construct took a year to complete. "And based on what we discovered in there," said Coleman, "and based on our experience, the tunnel was not operational for very long."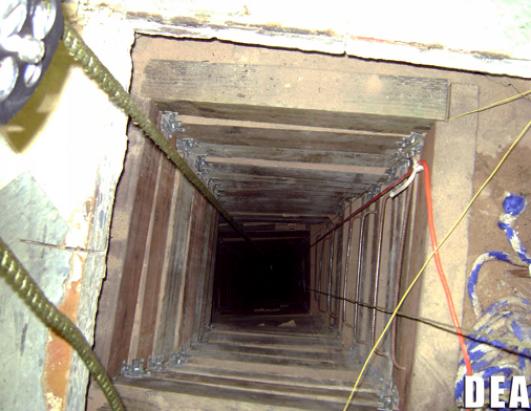 DEA agents found a drug tunnel in a 1-story building in San Luis, Arizona, July 7, 2012.
Coleman said it would be "a fairly educated guess" to assume the tunnel was linked to the Sinaloa cartel, which is active in the Arizona border region.
After U.S. officials discovered the four-foot-wide tunnel entrance in San Luis, which was surrounded by drums full of the dirt
removed from the tunnel, the Mexican military traced the tunnel to its entrance inside the Mexican ice plant. Bags of dirt removed from the tunnel were stacked to the factory ceiling.
Three suspects have been detained in the U.S. in connection with the tunnel.
The San Luis tunnel is the first fully operational smuggling tunnel found in the Yuma area, according to the DEA. In the past 10 years, 89 cross tunnel borders have been found in Arizona and 50 in neighboring California.
According to U.S. Immigration and Customs Enforcement (ICE), the first sophisticated smuggling tunnel was found in Douglas, Arizona more than 20 years ago. Many tunnels have included lighting, ventilation and beam-supported walls and ceilings. In the past seven years, 119 tunnels have been discovered on the southern U.S. border. Only one tunnel has been found on the U.S./Canada border.
PHOTOS of Mexican border drug tunnels.