UNITED STATES SPONSORING TERROR: OBAMA'S BROTHER DEEPLY INVOLVED (VIDEO)
When a nation provides either the weapons of the financial means for terrorist groups like al Qaeda, the Muslim Brotherhood, or Hamas, it is known as a state sponsor of terror. Currently the United States officially recognizes Iran, Syria, Sudan and Cuba in this regard.
According to our State Department, the "U.S. law requires the Secretary of State to provide Congress, by April 30 of each year, a full and complete report on terrorism with regard to those countries and groups meeting criteria set forth in the legislation. This annual report is entitled Country Reports on Terrorism."
The State Department goes on to say: "To designate a country as a State Sponsor of Terrorism, the Secretary of State must determine that the government of such country has repeatedly provided support for acts of international terrorism."
Don't hold your breath, but under this law, I believe Barack Obama has made United States may have become a "State Sponsor of Terrorism", and should be added to the list.
Consider, just these and there are more:
Obama sent 4 F-16 fighters to then Muslim Brotherhood Egyptian President Morsi.
Obama is arming al Qaeda fighters in Syria.
Obama sent $147 million to the Hamas run West Bank and Gaza, plus another 500 million, to the Palestinian authority where Hamas plays a fundamental and large role in that government.
That is just for starters...how much longer will America be silent?

-W.E.
CleanTVcom
The IRS scandal could turn out to be the greatest scandal in US political history.
Not only will it show the criminal behavior of people in the radical segments who work within our Federal government, who have conspired under the direction of the White House to perform acts that can only be compared to Gestapo type intimidation against conservative groups, but we will also show their extreme favorable bias resulting in aiding and abetting the financing of terrorism.
These are not just ordinary generic Islamic terrorists but terrorists who are close family members of President Obama himself! In this short documentary we will expose with concrete evidence the role of the IRS in granting illegal 501 c 3 status to terror front groups, and the summary details with solid evidence of the terror front organizations that are run by President Obama's family, which include raising and funneling money to Hamas.
U.S. Representative Mike Kelly sits on the House Ways and Means Committee. After reviewing just some of this research has referred to it as "spot on". Listen to Congressman Mike Kelly answer a constituent's request for justice on this matter.
Whoah! Spot on, indeed. When it comes to Barack Obama's half brother Malik Obama, the money trail leads directly to terrorism!
Yet, Malik Obama's 501 c 3 application sailed right on through thanks to Louis Lerner, the director of the IRS Exempt Organizations divisions, who in a mere 28 days granted tax exempt status to Malik Obama's organization when it normally takes ten months, and when granted, get this, it was back dated 38 months when the maximum allowed by law is 27 months. Compare that to conservative Tea Party groups who have waiting years for their tax exempt status to be granted--and some are still waiting!
Malik Obama is executive director of the International Dawa Organization, otherwise known as the IDO. And the I-D-O is an arm of the Sudanese government, which is led by Omar al-Bashir, who is wanted by the International Criminal Court (or ICC) for crimes against humanity!
But wait, it gets worse. Al-Bashir is a member of the Muslim Brotherhood. And the IDO is a partner with the Union For Good, otherwise known as UG, which is an umbrella group for Hamas! UG was designated by the U.S Treasury Department as a terrorist organization and Hamas has been designated as a Foreign Terrorist Organization, or an FTO, by the U.S. State Department.
UG, the Union for Good, represents over 50 Islamic fundraising groups, including the IDO and the World Association of Muslim Youth, or WAMY, which is also linked to Hamas.
UG...WAMY...can it get any worse? Unfortunately, yes.
Malik Obama proudly displays and flaunts the partnership between his Barack Hussein Obama Foundation, the BHOF, and the IDO, in photos of promotional boards on his website.
The IDO also has a bank account with the Al-Shamal bank, based in Sudan. The Financial Times reported that Osama bin Laden invested $50 Million in the Al-Shamal bank one year after it became operational, according to the U.S. State Department.
On the homepage of the UG website, Malik Obama's IDO boss -- Suar al-Dahab -- is identified as the vice president of the group, right behind Muslim Brotherhood Spiritual leader Yusuf al-Qaradawi, who is listed as President of the Union of Good, which lists the IDO as a partner organization!
In 2010, Malik Obama was in Yemen for an Orphan's Development conference. While there he had his photo taken of himself wearing a Hamas scarf. On one side of his scarf was a map of Israel that read "Palestine" in Arabic. On the other side of the scarf, it read, "Jerusalem! Onward we march forth" and "Palestine: From the River to the Sea", a clear endorsement of Hamas's goal to eliminate Israel!!!
Others at the conference included the commander of the Gaza Flotilla in 2010, the General Supervisor of WAMY, Omar al-Bashir's brother, and leaders from the Muslim World League and the Islamic Relief Organization. All of these groups either have ties to terrorism or are themselves designated terrorist groups!
As law-abiding Tea Party groups continue to fight off their own federal government from intimidation while they suffer from exercising their first amendment rights, Malik Obama's foundation long ago received pain-free and illegal tax-exempt status from the IRS. That tax-exempt status enables more funds to go to terrorists who already pose a grave threat to U.S. national security.
The question the American people will want to know is: Who in the IRS or the Treasury or the White House gave the order to allow the Barack H Foundation, a now proven terror front organization, the status it did not deserve? And who is guilty of being an accessory to terror funding?
(end of truncated transcript)
NOTE: Space in this description doesn't allow for posting the entire transcript of this video.
VISIT SHOEBAT.com
And for a list of all of our work on Malik Obama, visit:
SHOEBAT.com/malik-obama-articles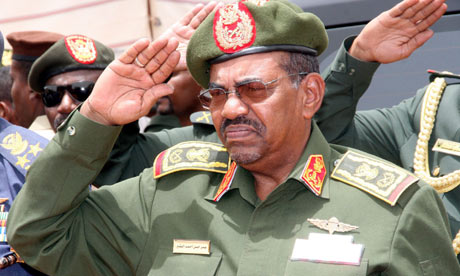 al Bashir